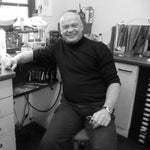 Heidi & Bea is a sister brand of Bill Skinner, an established jewellery business with over 40 years of experience in creating remarkably charismatic and distinct costume jewellery collections, delighting customers worldwide.
Bill's career and lifelong passion for jewellery have been shared with an enduring affection for Art Deco design & jewellery. Bold, clean lines that embody modernity, the aesthetics' ability to evolve for a new generation whilst maintaining its authentic glamour and timeless appeal is a source of continued fascination.
Heidi & Bea is a melding of these two passions, born out of a single small capsule collection it has given rise to an entire brand. A contemporary take on traditional Art Deco jewellery, it combines geometric patterns, sharp stone cuts with organic shapes to create intricate and jaw-dropping designs.
We are a British brand with over 40 years of experience in jewellery design and manufacturing and live for the emotions our jewellery evokes. Our commitment to producing high-quality jewellery and maintaining the highest ethical standards is resolute. Each item is designed and made to ensure that it will stand the test of time whilst being affordable.
We look forward to sharing our journey and jewellery with you and would love to see you wearing our pieces and telling us your story at #Heidiandbea