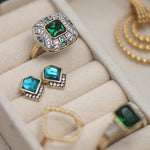 Looking after your Heidi & Bea jewellery
Effort and attention has gone into every item we create and we hope you'll enjoy wearing your jewellery as much as we've enjoyed making it.
A few easy steps will ensure your item remains in top condition.
Storage
All items are best stored in the dust bags that they're supplied in.
Semi-precious stones and leather
As a natural product semi-precious stone colours may vary. We believe this gives them added character and makes you item totally unique.
Chemicals
Avoid exposing your jewellery to chemicals such as perfume, household chemicals and hairspray as this could cause discolouration. Please remember, perfume first, jewellery afterwards!